OI is Technology Partner of Choice for decision makers with direct accountability in Design, Delivery and full lifecycle Operations of Precincts, Logistics,Transport, Over Station Developments (OSD)s and other nation defining projects.
83 Pirie Street, Adelaide
The 83 Pirie Street development is positioned around amenity, innovation, lifestyle, productivity and workplace sophistication with experience and service offerings as yet unique in Adelaide. 
Operational Intelligence was commissioned to design and provision both the Integrated Communications Network (ICN) and Integration Services Platform(IP) for this development, to enable and inform wellness and premium end-of-trip facilities seamlessly integrated into workplace and a 20 level, A grade office tower,  with 30,000sqm of commercial office space, 120 on site car parking spaces as well as flexible floor plates of 1,750 sqm, as well as lifestyle amenities which include include Adelaide's best shops, restaurants and cultural destinations. 
Pitt Street Over-Station Development (OSD)
Operational Intelligence is proud to join the world-class project team to deliver a project that sets the bar for purpose-built rental in Sydney, as integral to Oxford Properties Group ('Oxford') and Investa strategy to create a leading build to rent platform in Australia.
The 39-storey building will feature 234 residential apartments with extensive on-site amenities, including a wellness floor, rooftop terrace and adjoining communal space, an entire floor dedicated to work from home spaces, a social lounge and up to 682 square metres of retail. The building is targeting a 5 Star Green Star rating, with 30% Basix energy targets and 40% water targets.
Operational Intelligence will design and provide the Integration Services Platform (ISP) and Integrated Communications Network (ICN) to allow for development of the integration database as well as the structured common network integral to the smart property offering. The OI solution will enable the transport of data between the multiple building operating technologies into one common network for seamless and structured communication. 
A well architected and deployed solution will be essential for
the development's IP connected system 'edge devices' to communicate through a managed connection, parallel to network security and cyber security. This is also with a view to future proofing
connectivity between technologies, fast network speeds and future boosting.
Barangaroo South precinct
Barangaroo South is an AUD$6.4 Billion Smart City Precinct and one of only 19 projects around the world participating in the United Nations C40 Cities Climate Positive Development Program.
OI designed and delivered unprecedented real time monitoring and reporting capability with bespoke dashboard design for the precinct and 3 commercial towers.
This has delivered information visibility across vendor systems, protocols and business processes into one open data platform, including data from the BMS developed into bespoke workflows and metrics.
This has in turn delivered on Key objectives to drive up real time engagement, operational efficiencies and to drive down risk, cost and waste. The precinct was subsequently awarded Australia's first carbon-neutral urban community status.
A place that celebrates the bold and the individual, it's clear that this icon was never interested in being ordinary.
To stand out OI designed and integrated the Open
Platform and ICN that enables all key stakeholders with access to different providers, while benefiting from secure, integrated workflows and easy to manage building infrastructure.
Also, the common IT and Data aggregation platform aids in future proofing the development, as new building technologies are developed these can be
integrated into the platform.
The connecting and binding of data from multiple
systems and devices offers unique insights through dashboards, unlocking data silos and verification of data integrity for evidence-based decision-making.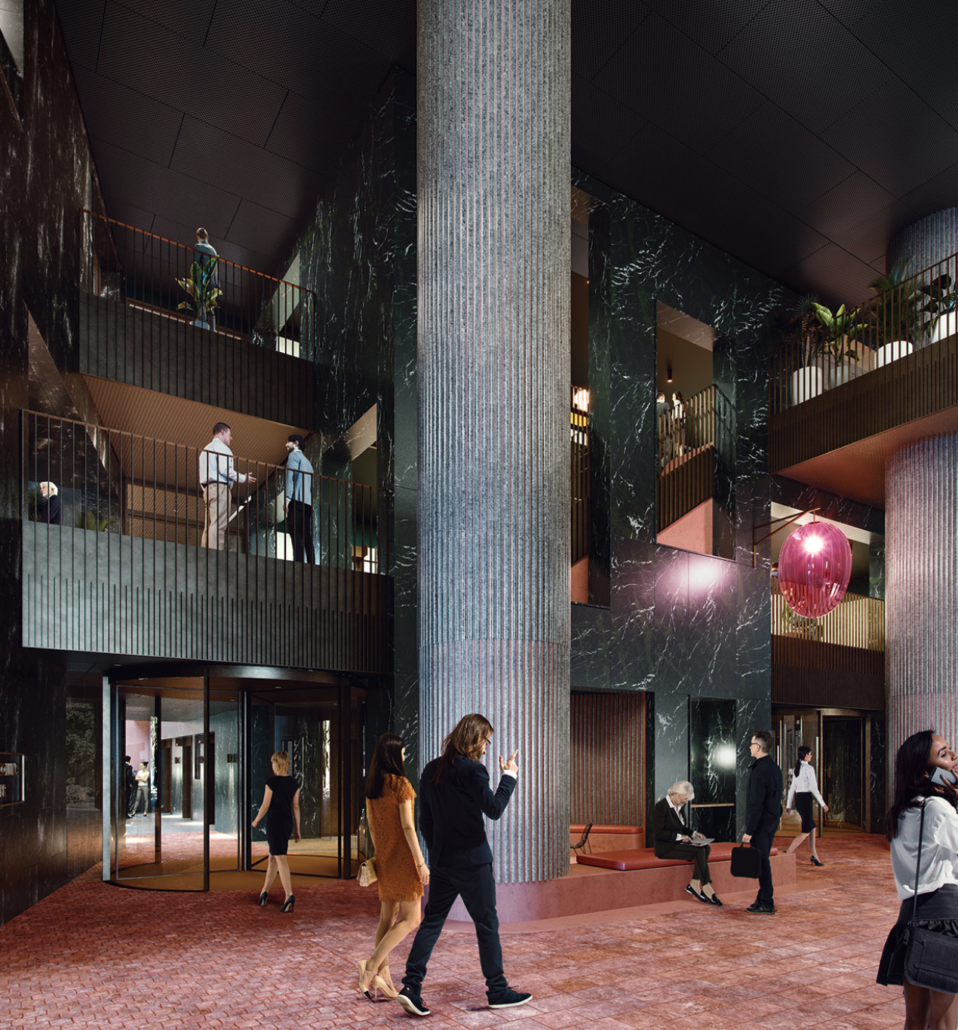 We are partners of choice for Advisory & Integration of best-of-breed technology

, including 3rd party, Digital Experience, Master System Integration (MSI), Services, On-Premise, Cloud & Hybrid Technologies.
We bring deep expertise in c
o-innovation and co-creation of solutions with customers

and

 develop e

nd-to-end solutions in collaboration with partners. 
Maximise your returns by optimising energy efficiency, reduced maintenance costs and improving occupant comfort. Our smart building solutions provide the insights that identify areas for improvement, so building owners can enhance all ranges of their operations. With our real-time data analytics and centralised dashboards, we ensure minimal waste and maximised performance.
Our smart building solutions are designed to optimise energy consumption, reduce maintenance costs and enhance operational performance. Access simplified data analytics that lets you monitor and regulate HVAC systems, lighting, security, room bookings, lifts, parking and more.
Through leveraging IoT sensors and data analytics, our solutions can optimise indoor air quality, temperature, lighting and other factors to enhance occupant comfort. This can lead to higher tenant satisfaction and better retention rates. Our solutions provide essential tools for building a positive reputation and attracting and retaining tenants.
Network System Integration
Operational Intelligence is responsible for designing networks, server solutions, wifi solutions and cyber security strategies. Within these solutions we can tailor to a clients needs based on different requirements including brands, levels of redundancy and scalability for future.
We live and breathe technology from R&D through to delivery and support making us a partner of choice to deliver more sustainable and profitable digital building solutions.
The digital advisory is a key step to understanding the needs of our customers and transforming these needs into a digital strategy and then a digital roadmap for deployment.
Operational Intelligence uses advanced knowledge of industry standards and best practises to seamlessly integrate multiple building systems and subsystems in a cohesive and interoperable whole. Utilising digital workflows and dashboarding, building owners can monitor multiple systems to enhance user interoperability and building operations. These systems can include HVAC, lighting, security, fire safety, access control and energy management systems.
Position your asset with the latest technology today.
Maximise your asset value today by optimising efficiencies and minimising effort, time, and expenses.
We are delighted to be selected as technology partners for 33 Alfred Street, AMP's head office since 1962 and key to the internationally renowned Circular Quay precinct in Australia.
Milestone projects with partners include
Australia's largest advanced robotics
fulfillment centre for Amazon, the current
Pitt Street Over-Station Development (OSD) in Sydney,
Melbourne Quarter, Istanbul Grand Airport (IGA) in Turkey, the Barangaroo South precinct and the iconic Quay Quarter revitalizing the harbourside Circular Quay precinct in Australia.